Henry Johnson (1809-1890) was an admired leader of ringing in Victorian Birmingham. He became widely known through his ability in composition, his achievements as a conductor, and his life-long dedication to the art.
His 80th birthday was the focus of a grand dinner at which A. P. Heywood launched the idea of the Central Council of Church Bell Ringers. This grand event in 1889, the last year of Johnson's life, has been counted as the first of the unbroken series of annual dinners held to celebrate the Birmingham tradition and its links with the wider ringing community.

Further details of past Henry Johnson Commemoration Dinners can be found here.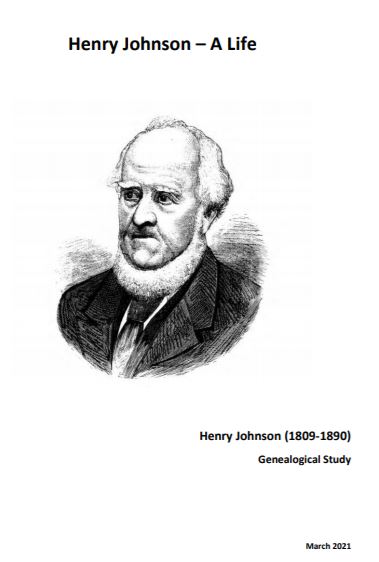 Henry Johnson: A Life
In March 2021, Elizabeth Bowsher completed a detailed genealogical study of Henry Johnson and his family. The resulting report provides a fascinating, and fresh insight, into Henry's life. A copy of this report is stored in the Guild Library. Here, Elizabeth provides a summary of her findings:
A different take on Henry Johnson's life has come from a genealogical study, complementing Richard Jones' previous work.  Some of the findings confirm John Day's 'Recollections'; others are new to our generation. 
The story begins with Henry's baptism on 24 March 1809 at St Chad, Lichfield. Henry was a twin and his sister Ann's burial was recorded in the register immediately above his baptism. The family moved from Lichfield, first to West Bromwich and then Handsworth, where a brother and two sisters were born.
Henry began ringing in the 1830s at Aston. His first peal was in January 1830, by 1832 he had made his conducting debut and in 1833 he joined the Society of St Martin's Youths. Henry married Mary Ann Owen in 1831 at St Mary, Handsworth. The couple had six children, but only two survived infancy and Mary Ann died in 1848. Henry married Ann Walton in 1850 and they had six children, losing only one in infancy; their oldest son, Henry Johnson junior, became a talented ringer in his own right.
Between 1850 and 1870 Henry had varying occupations: In the 1830s Henry was following his father's occupation as a chandler and by the 1840s he was a sawyer. From 1850-70 he was varyingly a sawyer, a butcher and a timber salesman.
Ann died in 1870. With his children grown up and presumably a less onerous working life he was more at liberty to pursue his ringing interests and nearly half of his peals were in the 1870s and 1880s. His last peal was in February 1884, five days before his 75th birthday. By then he had severe rheumatism and was unable to continue ringing. By 1888 he could hardly hold a pen.
A dinner held in his honour of his 77th birthday in 1886 was attended by ringers from all over the country and he was presented with his portrait. He was elected president of the St Martin's Guild in January 1888. A banquet organized for his 80th birthday led to the development of the Central Council of Change Ringers.
Henry died after a short illness, aged 80, on 7 January 1890. He was buried at Aston and a memorial was later raised in his memory. In July 1895 the St Martin's Guild decided that in future their annual dinner would be the commemoration of the late Henry Johnson and held on the nearest Saturday to the end of February.